ESF is the UK's biggest youth football festival, with over 1000 boys and girls youth football teams from all over the UK joining us on tour each year. To view the full calendar of ESF youth football tournaments on offer this season, including 7-a-side tournaments for U9 and U9 teams, please click here
Building confidence in the game, while staying fit and active, is an ideal way for youngsters to enjoy football. And there's a lot to be said for playing in smaller teams, especially when it comes to the younger years.
Not only does the increased chance at the ball and faster pace mean more excitement and greater fitness, but it can enable a better understanding of the game and encourage greater concentration.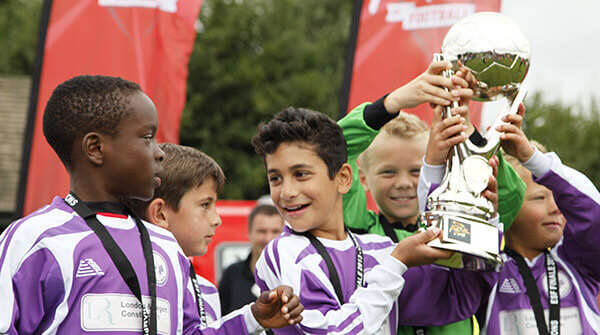 Our seven a side football tournaments are a whole load of fun to take part in, as players can join their mates to take on teams from around the UK and play the sport that they love in surroundings that offer great times for everyone.
Whether you've a young Ronaldo on your hands or they're not quite there yet, the experience is one to enjoy for teams of all abilities.
ESF 7 a side Football Tournament Information
The seven aside football tournaments make up part of the ESF Festival of Football and take place in some fun packed and stunning locations, spread nicely across the UK. To get a taster of what's on offer, check out the locations below: